Overview
Business applications often share common features and technical requirements e.g. user administration and error logging. We've developed a robust framework of supporting components and administration tools suited for enterprise applications. This lets us focus development on your business requirements while still delivering a complete solution. As we upgrade our framework we're able to upgrade your application to make use of the new improvments.
Our framework's key features are:
Basic security and navigation
User administration
Multi-lingual UI support and administration
Exception and sent mail logs
Asynchronous / batch processing system
Standardized data access and utility components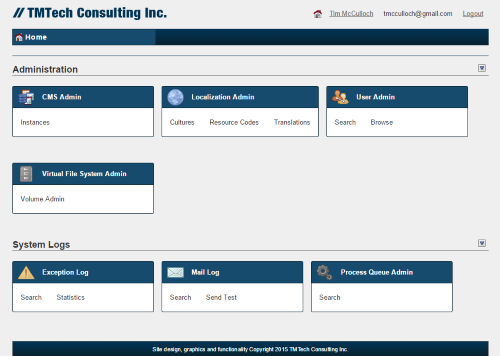 Framework Applications
Our framework provides the following applications to help support your custom business application.
Content Management System (CMS) Admin

CMS Admin can be used for authoring system announcements and on-line help.

Localization Admin

Our user interface supports database driven multiple language translations. Localization Admin allows you to modify the text and translations.

User Admin

User Admin allows you to manage users and their rights within your application.

Virtual File System (VFS) Admin

This tool allows you to browser our virutal file system which is used to store uploaded files and generated content.

Exception Log

Application exceptions are viewable using this application.

Mail Log

Our email component records each sent email to a log which is viewable using this application.

Process Queue Admin

Long running tasks and batch jobs are queued and executed asynchronously. This admin tool allows you to monitor the queue.